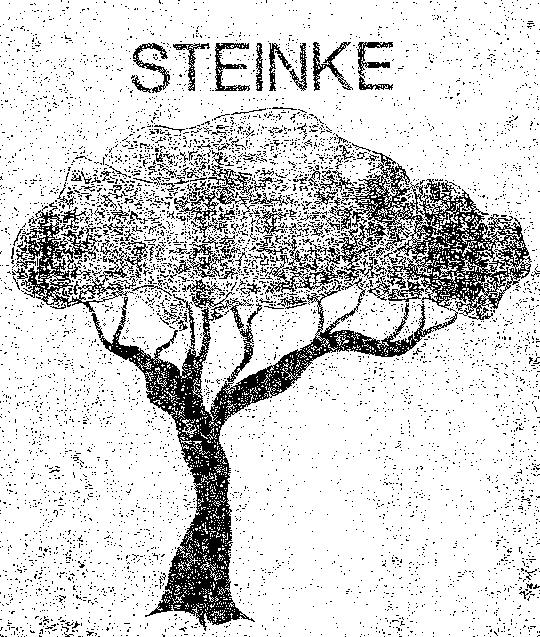 ---
CHAPTER I
The emigrant ancestors of the Steinke Families and early history of

RHINE, FRYBURG and BOTKINS

By
LINDA K. KNERR . . . RAY B. WARREN
Mark E. STEINKE
---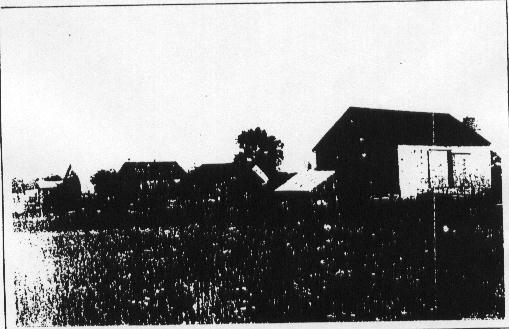 STEINKE HOMESTEAD - Note: Rhine Church Steeple at left of barn


This chapters features:
Maps of - Pusheta Township, Auglaize County
Dinsmore Township, Shelby County
Granville Township, Mercer County
Area maps of the Steinke homeland in Germany
A sketch of George Steinke and Catherine Meyer family
A sketch of George Bernard Henry Schnippel and Margaret Steinke family.
Brief sketches of Burkettsville and Cranberry Prairie
---

ABOUT THE CONTENTS.
This book is arranged in nine chapters, each by a different author or co-author. Each chapter will have ist own numbering of pages and ist own index, this way we can supply the contents of this book in ist entirely or by individual chapter. This way, if you are a member or descendant of say, Diedrich Steinke's line and wish to have the descendants only of this lineage, it will be supplied this way. We do recommend that you also include Chapter I. This chapter includes photos, maps and much early history of Rhine, Fryburg, Botkins, and surrounding areas.
Each page is numbered to include the chapter number and the page numbers of that chapter - Example, Chapter I will be as follows: 1-1, 1-2, 1-3, etc. Chapter 2 will be 2-1, 2-2, 2-3 etc. and thus for all chapters
.
CONTENTS
Chapter 1 - - The emigrant ancestors of the Steinke Families and early history of Rhine, Fryburg, and Botkins.
Chapter 2 - - The Family and Descendants of Diedrich Steinke and Therese Werling.
Chapter 3 - - The Family and Descendants of John E. Steinke and Caroline Wiss.
Chapter 4 - - The Family and Descendants of George Steinke and Anna Mary Graf.
Chapter 5 - - The Family and Descendants of Joseph Steinke and Philomina Wempe
Chapter 6 - - The Family and Descendants of Leo J. Steinke and Elizabeth Schipper.
Chapter 7 - - The Family and Descendants of Therese Steinke and Bernard Schipper.
Chapter 8 - - The Family and Descendants of Henry E. Steinke and 1st Elizabeth Werling & 2nd Celestia Robbins
Chapter 9 - - The Family and Descendants of Bernard Thieman and Mary Kaiser Steinke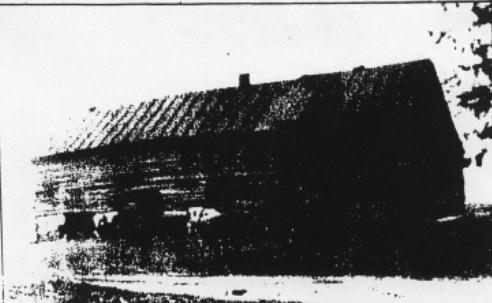 STEINKE HOMESTEAD - The old cabin, circa 1837 - 1981
---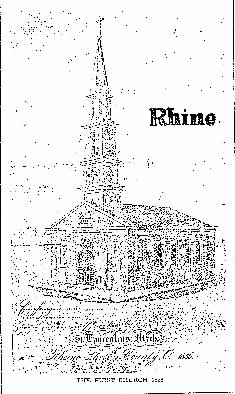 An early drawing of the St. Laurentius Kirche in Rheine
a more current picture ( now called St. Lawrence) can be found here
---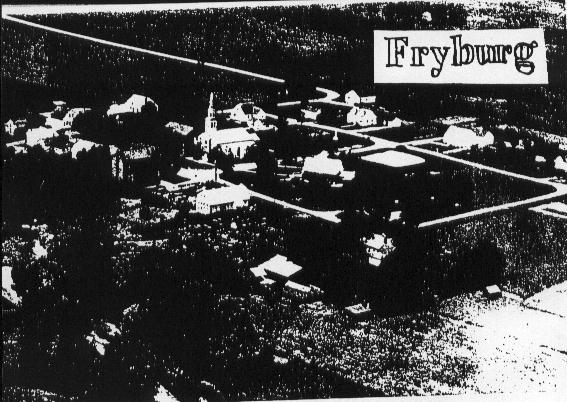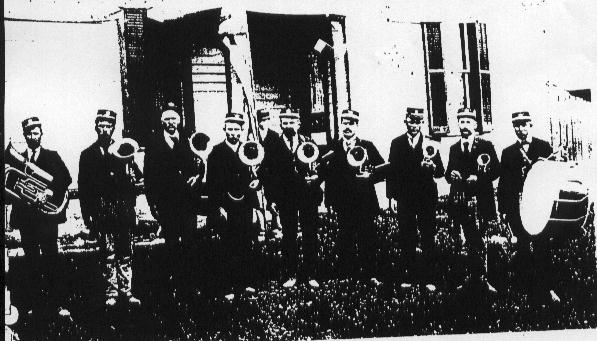 The famous old Fryburg Brass Band
Left to right: Lawrence Nuss, Doctor Siebert, John Schneider, Rudolph Limbert, Fred Megel, Will Ruck, Will Limbert, Dr. Strasburg, and Louis Duckro. The flag-bearer is H. Schaub.
---
EARLY FRYBURG
MARRIAGES
This is a later picture of
Henry Schnippel and Floren-
tine Reineke, the first couple
ever married in the Fryburg
Church.

They are the grandparents
of Maggie Limbert and Jose-
phine Kohlrieser.
1853
Nov. 26, Henry Schnippel and Florentine Reineke.
1854
Jan. 17, John Gerhard and Mary Baumann
Feb. 7, Andrew Gutmann and Catherine Seiter.
The same day,- Geo. Seiter and Theresa Helmer
Feb. 28, Adam Schmidt and Anna Schaefer.
Apr. 25, John Beyersdorfer and Margaret Limer.
May 18, John Trentman and Mary Schnippel.
May 23, Joseph Wurstner and Catherine Altendorf.
Aug. 4, Charles Heger and Catherine Kunstle.
Oct. 11, Nicholas Geisler and Cunigunda Seifert.
1855
Jan. 23, Adam Veit and Anna Marienthal.
Feb. 13, Joseph Werling and Cathrine Roth.
The same day.- Bernard Schnippel and Theresa Werling.
May 22, Peter Bustetter and Theresa Cron.
July 3, George Hengstler and Barbara Sillers.
Oct. 8, William Ennesser and Magdalene Fischer
Nov. 20, John Mosler and Elizabeth Beter.
Nov. 27, Joseph Schnippel and Mary Trentman.
1856
Feb. 4, J. Blum and Margaret Ennesser.
Apr. 8, Gerhard Schnippel and Mary Wievels
1857
Feb. 11, Jacob Stolle and Mary Hageman.
1858
Feb. 9, Anthony Roth and Elisabeth Eiling.
June 29, John Monger and Anna Muller.
The same day,- Michael Muller and Barbara Beck.
Oct. 27, Mathew Bustetter and Susan Kunstler.
---
Botkins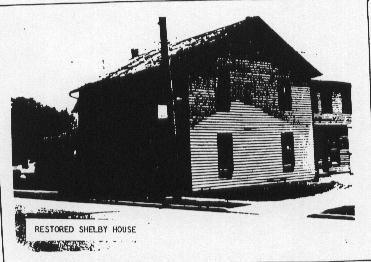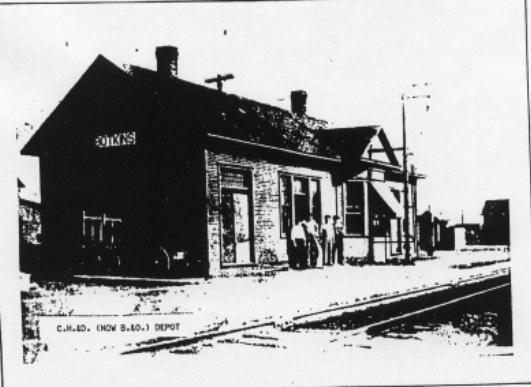 ---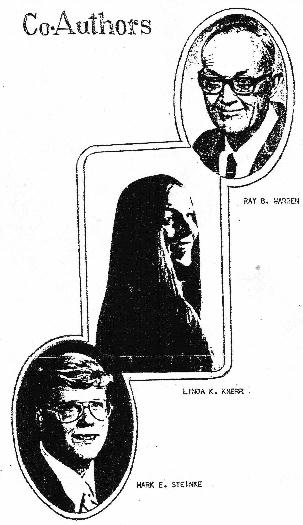 ---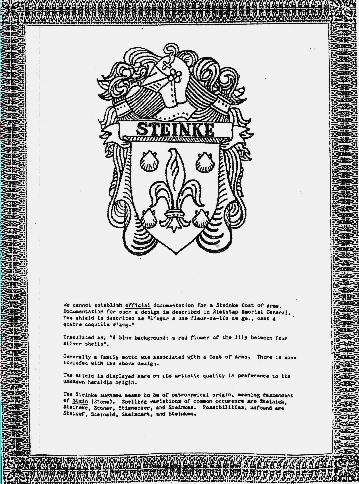 ---
KATHOLISCHES PFARRAMT
4553 VOLTLAGE
VOLTLAGE, DEN 15. 9. 1983
TELEFON 05467-437
Herrn
Mark Stein
408 E.South St.
USA
Betr. : Archiv-Auskünfte

Auf Ihre Anfrage teilen wir Ihnen folgendes mit :
Joseph Johann Lambert Steinke
Vater : Herman Heinrich Steinke, geboren am 26.8.1765 geheiratet am 20.9.1801 gestorben 22.1.1842
Mutter : Margaretha Ruwe, aus Neuenkirchen Todestag unbekannt
Die Frau v. Johann Lambert Joseph Steinke war :
Maria Anna Kaiser, geboren am 24.5.1825,
deren Eltern:
Hermann Kaiser und Elisabeth Wernke, geb. am 4.3.1843.
Weitere Angaben konnten wir in unseren Kirchenbüchern nicht finden.
Mit freundlichem Gruß


---
Voltlage, den 11.5.84
Sehr geehrter Herr Steinke!
Auf Ihre Anfrage vom 26.2.83 teilen wir Ihnen mit, daß folgende Daten aus den Kirchenbüchern der Gemeinde Voltlage zu entnehmen waren.
Mit freundlichen Grüßen


---
Joseph Johann Lambert Steinke                    geb. 01.05.1815
================================================================ 
Ehefrau: Maria Anna Kaiser                       geb. 24.05.1825 
Eltern von Maria Anna Kaiser - Hermann Kaiser
                             - Elisabeth Wernke geb. 19.09.1773
                                                 +   04.03.1843 

Geschwister von Joseph Johann Lambert Steinke:
           1. Maria Anna Steinke geb. 11.05.1805
           2. Joannes Theodosius Steinke geb. 11.09.1807 
           3. Joannes Hermannius Steinke geb. 21.09.1809
           4. Margaretha Adelheid Steinke geb. 19.07.1812 
           5. Joseph - Johann - Lambert geb. 01.05.1815
           6. Gerhard Heinrich geb. 10.11.1817 
           7. Maria Catharina geb. 11.04.1820
 Eltern - Hermann Heinrich Steinke geb. 26.08.1765
                                     oo 20.09.1801
                                      + 22.01.1842 
                                   ---------------
          Margaretha Ruwe aus Neuenkirchen geb. ? 
                                            oo 20.09.1801 + ?
 Großeltern Johann Steinke
            Margareth Sander 


Gerhard Bernhard Heinrich Schnippel (Snippel) geb. 17.12.1804
 Margaretha Schnippel (Snippel) (geborene Steinke) geb. 11.05.1805
 oo 03.04.1826

Kinder: Heinrich Snippel geb. 12.08.1825 (unehelich)
        Jan Heinrich Snippel geb. 01.10.1828
        Jan Bernhard Joseph geb. 20.12.1831
        Gerhard Heinrich geb. 15.07.1834
        Anna Maria Franziska geb. 05.09.1837
        Hermann Heinrich geb. 15.12.1840

III
---
STEINKE HISTORY
The motivation that causes a person, or even a group of people, to leave their Fatherland for another land thousands of miles away, must start with a deep, urgent desire to get away from something, a dislike of government-demanded military service, or possibly just to improve one's freedom. For this story we can only assume that a group of people and families planned to migrate to America in small groups, and to rejoin there, in hopes of beginning a better life.
This story begins in the town of Voltlage, Hanover, Germany. It is here that we find the Kaisers, Steinkes and Schnippels.
Hermann Heinrich Steinke was born in Voltlage on August 26, 1765, and was the son of Johann and Margareth Sander Steinke. He married Margaretha Ruwe from Neuenkirchen on September 20, 1801 in Voltlage. Hermann died in Voltlage on January 22, 1842. We have no dates for his wife, Margaretha. Hermann and Margaretha had seven Children.

1) Maria Anna (Margret) Steinke, born May 11, 1805 in Voltlage. She married Georg Bernard Henry Schnippel.
2) John Theodore Steinke, born September 11, 1807 in Voltlage.
3) John Hermann Steinke, born September 21, 1809 in Voltlage.
4) Margaret Adelheid Steinke, born July 19, 1812 in Voltlage.
5) Joseph John Lambert Steinke, born May 1, 1815 in Voltlage. He married Mary Anna Kaiser.
6) George Henry Steinke, born November 10, 1817 in Voltlage. He married Mary Catherine Meyer.
7) Mary Catherine Steinke, born April 11, 1817 in Voltlage.

The fifth child, Joseph, set out for America around 1837. We have found a Joseph Steinecke listed as a passenger on the ship ELISE, which left from Bremen, Germany and landed at Baltimore, Maryland on June 4, 1838. He is listed as being a farmer, age twenty-three, and headed for Cincinaty (sic). It is very likely that this is our Joseph Steinke, but we can't know for sure.
We do know that about this same time, another family, the Kaisers, left Voltlage. Mary Anna Kaiser was born in Voltlage on May 24, 1825, and was the only known child of George Henry and Elizabeth Wernke Kaiser.
The Kaisers arrived in Dinsmore Township, Shelby County, Ohio and procured this land tract:
The north end of the east half of the southwest quarter of Section 36, Township No. 6, south of Range No. 6 east, containing 40 acres.
This tract was to become the homeplace. The land was cleared and buildings erected. The first part of the "old" cabin was possibly built by Mr. Kaiser at this time.
George Henry and Elizabeth Kaiser also acquired this tract of land:
The south end of the east half of the southwest quarter of Section 36, Township No. 6, south of Range No. 6 east, containing 40 acres.
This land is located south and adjacent to the homeplace.
We believe that Joseph Steinke may have lived with the Kaisers when they settled in America. During this time he became very well acquainted with them.
Two years later, on February 6, 1840, Joseph Steinke married Mary Anna Kaiser. (Marriage record is at St. Augustine Church, Minster. Perhaps here we should mention that in this record, and in many records at the Shelby County Courthouse and U.S. Census, Steinke is listed as Stoner.) From the 1840 U.S. Federal Census, we can be reasonably certain that Joseph and Mary Steinke lived with George Henry and Elizabeth Kaiser after their marriage.
On May 18, 1844, Henry and Elizabeth Kaiser deeded the 40 acre tract of the homeplace to Joseph and Mary Steinke. On June 21, 1845 Henry Kaiser deeded 40 acres of land to Joseph
1-3
---
and Mary Steinke. This 40 acre tract is adjoining and south of the homeplace. On September 30, 1852, Joseph Stoner acquired 40 acres in the north east quarter of section 36, Dinsmore Township. This tract was sold to George and Catherine Stoner and in 1857 it was transferred to Diedrich Schulte. Possibly here we may have overlooked some of the transactions of Joseph Steinke. At the time of his death in 1858, he owned 240 acres of land in Section 36, all adjoining the homeplace to the east and south.
Elizabeth Kaiser died on March 4, 1843. There is no record of her burial, but assumed to be an unrecorded burial at St. Peter and Paul Cemetery at Petersburg. The death of Gerhard Kaiser is recorded at Rhine. (He lived with his oldest grandson, Diedrich Steinke, until his death on January 8, 1866).
Other lands neighboring the Steinke's were, four, eighty acre tracts across Botkins Road on the south. These lands were purchased on July 4, 1853 by Bernard H. Schnippel, Bernard Schnippel, Henry Schnippel and Joseph Schnippel. Diedrich Schulte owned 80 acres of land west of the Joseph J. Steinke tract, four acres of which was donated for the site of St. Lawrence Catholic Church.
John B. Schipper was owner of 120 acres to the west of Diedrich Schulte. Later other lands were entered on by immigrants whose names were Soder, Reineke, Borges, Platvoet, Hemmert, Wertz, Schmerge, Schwab, Wempe, Wahler, Gray, and Greve to name a few.
As time passed the family of Joseph J. Steinke grew larger and larger. It was necessary to build new additions to the old cabin. A lean-to was added all along the rear (east) side. This was used for cooking and eating. In the old cabin there were two rooms divided by a hall. The upstairs was one large room. A partition about four foot high divided the room. A crawl hole was located in the center of the partition. A steep stair provided access to the second floor. The only protection from the elements on this floor were the rafters, slats and shingles. Heating and cooking in the cabin was achieved by cast iron stoves. If fireplaces were ever used, there is no evidence to show of their existence. Around 1860, an addition with a cellar was added to the west end of the old building. The old cabin was occupied until 1945. The last tenants were the family of George and Minnie (Koenig) Steinke. After George died in 1936, Minnie and her family remained another eleven years before moving to Sidney. The cabin was used as a grainery by the Greve family, who still own the property. The old cabin stood until its destruction and removal in 1981.
The cabin and Joseph and Mary's family grew together until Joseph died on March 4, 1858, at which time they were parents of thirteen children.
The children of JOSEPH J. STEINKE and MARY ANNA KAISER
HENRY STEINKE, born 1840, his baptism record possibly among the lost Petersburg records. He died August 13, 1853, and is buried at Fryburg.
DIEDRICH STEINKE, born October 17, 1841, his baptism record possibly also among the lost Petersburg records. Diedrich married Theresia Werling, the daughter of Stephen and Rosalia Knapper Werling, on August 16, 1859. Diedrich died November 19, 1904, buried at Rhine. See chapter 2 for descendants.
ELIZABETH STEINKE, born January 4, 1843, and was the first recorded baptism at Petersburg. There is no record of her death and burial, but from the U.S. Federal Census, we know it was before 1850. We assume she is buried at Petersburg.
MARIA ANNA STEINKE, born June 6, 1844, a recorded birth and baptism at Petersburg, died October 24, 1859 at Rhine.
1-4
---
JOHN EDWARD STEINKE, born February 10, 1846, a recorded birth at Petersburg. On October 6, 1868 he married Caroline Wiss, the daughter of John and Catherine Adams Wiss. John died at Cranberry Prairie, Mercer County, Ohio, on September 23, 1922 and is buried there. See chapter 3 for descendants.
GEORGE (GERHARD) STEINKE, born May 6, 1847, a recorded birth at Petersburg. On January 17, 1871 he married Mary Graf, the daughter of Ignaz and Helena Kressig Graf. George died at Botkins December 18, 1928 and is buried there. See chapter 4 for descendants.
JOSEPH STEINKE II, born August 25, 1848, a recorded birth at Petersburg. On August 11, 1874 he married Philomena Wempe, daughter of Rudolph and Philomena Suttmann Wempe. Joseph died February 19, 1926 at Rhine and is buried there. See chapter 5 for descendants.
LEO JOHN STEINKE, born August 11, 1850, a recorded birth at Petersburg. On May 8, 1876 he married Elizabeth Schipper, daughter of John B. and M. Catherine Schulte Schipper. Leo died February 15, 1918 at Rhine. See chapter 6 for descendants.
ELIZABETH STEINKE, baptized December 28, 1851 at Fryburg (birth date isn't recorded). There is no record of her death and burial, but it was before 1860.
MARGARET STEINKE, born January 6, 1854, a Fryburg record of birth. She died May 20, 1870, buried at Rhine.
MARIA CATHERINE STEINKE, born April 15, 1855, a Fryburg record of birth. She died August 27, 1855, a Fryburg burial.
THERESIA STEINKE, born August 15, 1856, baptized at Fryburg. She married Bernard Schipper, the son of John B. and M. Catherine Schulte Schipper on February 3, 1874. She died September 26, 1933 in Botkins, buried at Rhine. See chapter 7 for descendants.
HENRY EBERHARD STEINKE, born May 30, 1858, and was the only one of Joseph's children baptized at Rhine. On September 30, 1879 he married Elizabeth Werling, the daughter of Michael and Agnes Martin Werling. Henry married second to Celestia Robbins, the daughter of Joseph and Aralia Studer Robbins. Henry died at Burkettsville, Ohio on July 23, 1923, and is buried there. See chapter 8 for descendants.
After Joseph's death, Mary remained on the homeplace with the help of her growing sons. On August 29, 1860, she married Bernard Thiemann at Rhine. They became the parents of four children, making seventeen in all for Mary Anne Kaiser Steinke Thiemann.
BERNARD HENRY THIEMANN, born June 6, 1861 at Rhine. He moved to Canada.
ELIZABETH ANNA MARIA Thiemann, born November 30, 1862. She married George Monger, son of John and Anna Miller Monger.
STEPHEN THIEMANN, born January 3, 1865 at Rhine. He married Mary Ann Gelhouse of St. Henry and made that his home. He died there May 18, 1926.
BERNARDINA THIEMANN, born May 7, 1866 at Rhine, died February 20, 1868.
--see chapter 9 for the known descendants of this Thiemann family--
When Joseph Steinke died, he left all his land to his wife, Mary. We have no record of this land being transferred to Bernard Thiemann. Evidently it was transferred when Mary Kaiser Steinke married him in 1860.
On September 23, 1876 Bernard Thiemann deeded the 40 acre homeplace and the 40 acres due east of the homeplace, a total of 80 acres to Leo Steinke. Leo farmed the tract and lived in the oldest part of the cabin. Mary and Bernard lived in the added western rooms of the cabin. Also on September 23, 1876 the remaining portions of the land was divided among Joseph J. and Marys sons, Diedrich, John, and Joseph. The tracts are shown on the Dinsmore Township 1900 map, which is about 20
1-5
---
years later than the transactions described. John sold his tract and moved to Cranberry Prairie in Mercer County, Ohio. Joseph remained on 80 acres on the north side of Botkins Road a very short distance east of St. Lawrence Church. Diedrich moved to Auglaize County near Fryburg but later returned to the tract of land between Rhine Church and the land owned by his brother Joseph. Diedrich, Joseph, and Leo, sons of Joseph J. Steinke, all died on parts of the original 240 acres once owned by their father. We know of no record of land going to Joseph J.'s sons George and Henry or to the daughter Therese Steinke Schipper.
In her final years, Mary Anna Thiemann was bedridden and "had to be fed by others" as her obituary in the Sidney Daily News states. The wife and mother died March 27, 1897 at the age of 72. The funeral took place in Rhine church, and also according to her obituary, she had the "largest funeral ever held at Rhine". Her husband, Bernard Thiemann, died May 8, 1898. Both are buried in the Rhine Cemetery.
First Holy Communion
ST. LAWRENCE CHURCH
Rhine, Ohio
Frances Frankenberg
Frances Freistueller
Ida Kohlriesen
Philomena Schipper
Rosa Schmerge
Frances Schulte
Catherine Schweitzer
Rosa Steinke
Verona Wahler
August Dieringer
Wm. Freistueller
Aloysius Hammacher
Joseph Lenhart
Albert Platvoet
Ferdinand Schmidt
Edward Schnippel
Ludwig Schnippel
Edward Schulte
Edward Schweitzer
Charles Soeder
Edward Steinke
Cornelius Sullivan
Urban Wahler
MAY 31st 1903

1-6
---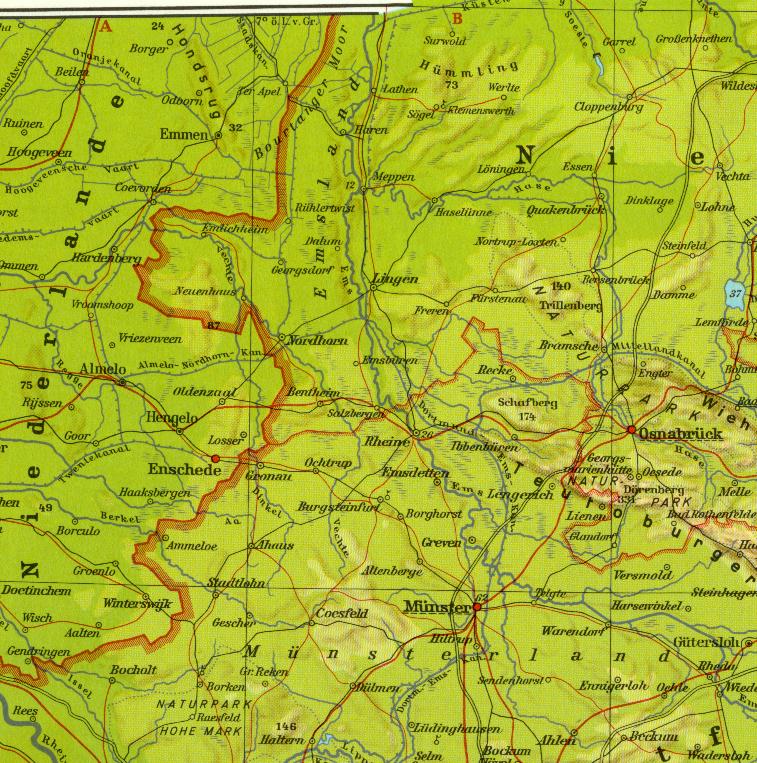 [Same Map with higher resolution
But if you are looking for Voltlage you will be disappointed, it is just too small to show on this map.
However if you click in the above map onto the area where Voltlage should be you will be led to the Map-Page.
Or you can take the easy way.]
---
The RHINE Story
Situated three miles east of Botkins, Ohio, is the little community of farming families called Rhine, pronounced Rhiney. How it came by its names none of ist inhabitants are certain. First settlers have passed away in death without handing down what they knew of its beginning; so the origin of the name stands in the misty past and can only be guessed. It seems, however, that by the name, Rhine, these early settlers wished to perpetuate in memory what they loved in the land of their birth. It is a fact that many towns and places in the States recall towns and places in other lands. Most of the early settlers in Rhine were German immigrants. Perhaps they lived in regions touching the Rhine River, greatly celebrated in their home country, and so they handed down its name to the new community in their new land. This guess is strengthened by another fact that these early folks, isolated from towns and cities when much of the land was covered with forests, and travel was difficult, loved to get together in recreation to relieve their loneliness. One of their diversions was the singing of songs and one of their favorite songs was "The Watch on the Rhine." It is therefore again surmised that the Rhine River had a part in establishing the name of their new home.
Milk-sickness, a malignant disease affecting farm stock, was prevalent these early days in Northwestern Ohio, so much so that many settlers moved quickly to other places. Diedrich Schulte, however, was one who stayed. Mr. Schulte entered the southwest portion of section 36, Dinsmore Township in the year 1838. It is not known what price acreage he paid for this first place of property, but it must have been only a nominal price in order to encourage others to come into the region. For, in 1852, Mr. Schulte acquired an additional 80 acres for which he paid the "grand" sum of one-hundred and twenty dollars. To raise this purchase price he butchered four hogs, hauled them by wagon to Port Jefferson, a distance of twelve miles, where they were sold, then journeyed on to the Government Agency at Sidney to obtain a deed for his land. This deed, carefully preserved and treasured by the Schulte heirs, is signed by Reuben Wood then Governor of Ohio.
Relative to divine service the catholic people of Rhine first offered the Holy Sacrifice of Mass in Petersburg Parish, one mile south of Fryburg, organized by Reverend William Horstman. Father Horstman, a man surely dear to the heart of God because of his zeal and self-sacrifice in missionary work, was born in Glandorf, Germany, in 1778 and ordained priest in 1806. A long-time desire to found a new colony in America was fulfilled when his superiors granted leave and after eight weeks of ocean voyage he landed in the new country, the choice and scene of his future labors for Christ. Striking out at once into the wilderness he came to Putnam County, Ohio where he decided to stay. Friends followed him across the ocean and together they cleared the land, broke the soil and in memory of their old home called the new colony Glandorf.
But Father Horstman, fired with the cause of Christ, did not confine his missionary zeal to Putnam County. Hearing of catholic settlements farther south he founded a congregration in Minster, Auglaize County. His second foundation was at Petersburg mentioned above in this story. Here a little log church was built in 1836, which however, was not formally blessed until January 1840 under the invocation of the Apostles Peter and Paul. In this church the families of Rhine together with those from Wapakoneta, Fryburg and Botkins worshipped God. But distance, and mud roads which became impassable in winter, caused the Catholics of each of these places to build their own churches, the first, Wapakoneta in 1839, the second Fryburg in 1849, the third, Rhine 1856, and Botkins in 1866. "Surrounded completely by her children" as Father Tebbe writes in his centenary book of the Fryburg Parish,
1-12
---
"the little log church of Petersburg was needed no longer. She had served her purpose. Like the good seed, in giving life to new plants she losed her own."
At first, and until a church could be built, the Sacrifice of the mass was not offered in Rhine every Sunday but at intervals. For instance on Mondays after the great feast days such as Christmas, Easter and Pentecost, it was offered in the Schulte home on a dresser, and the faithful, previously confessed, received communion. Meanwhile the Rhine folks worked with enthusiasm for their new parish.
At a first meeting held in the district school-house, Mr. Schulte announced that he would donate four acres of his land for a church. To this announcement George Schnippel replied, "If you can donate four acres for a church, I can and will donate one acre for a cemetery." Both offers were accepted with joy. Those on the building committee were John Greve, John Soder, Diedrich Steinke and Dietrich Schulte.
An early history of Shelby County, compiled in 1883 has the following account of the Rhine Parish:
"St. Lawrence Catholic Church is located near the southwest corner of section 36, Dinsmore Township on the Botkins Pike. The society was organized in the schoolhouse of sub-district No. 1 by Father Henry J. Muckerheide with about twenty families. Their church was dedicated sometime during the autumn of 1858. The building is a brick structure 50 x 40 feet with a 22 foot ceiling and was erected at a cost of $2100. John B. Shipper, D. Schulte, Joseph's Schmerge and Steinke were then appointed trustees. The present trustees are Joseph Stolle, Andrew Borges and George Martin. The priests since the organization of the society have been Father Muckerheide until 1862; Father A. Enders 1862; Father P. Engelbert 1863; Father Henry Volm 1864; Father Joseph Goebbels 1864-71; Father Henry Daniel 1871-73; Father Nicholas Eilerman 1873-93.
In his later years Father Eilerman realized the need of a new church to replace the first one which, although not so old yet had been constructed rather roughly both within and without. He set about collecting funds and in 1893 witnessed the laying of the cornerstone of the new edifice. However, he died the same year and did not see its completion. It was finished under the direction of Father Henry Daniel and dedicated in August 1894 by Most Reverend William Henry Elder, Archbishop of Cincinnati.
Rhine at this time still had no resident pastor. All priests mentioned above served the parish out of Fryburg or Botkins where they lived. Father G. Henry Mueller built the present rectory in 1896 and became the first priest to live on Rhine premises. Following him came Fathers Aloysius Kohmescher 1896-1902; Joseph Sund 1902-1906; William Miggeel 1906-07; Clemet (now Right Reverend Monsignor) Beckmeyer 1907-10: William Miggeel 1910-20; Alphonse Mueller C.P.P.S. 1920-21; Bernard Wellman 1921-22; Aloysius Cood C.P.P.S. 1922-23; Charles Knap 1923-48; Edwin Dittman 1948-50. The present pastor is Father Urban Koehl.
During the pastorate of Father Knab, high tornadic winds blew across Rhine on St. Joseph's Day, March 19, 1948, causing much material damage to church buildings and farm property in the area. The steeple of the church toppled and crashed onto the adjacent schoolhouse. Debris was seen everywhere. But the people took it in good stride knowing that all parts of the earth are subject occasionally to high wind, and Rhine not more than others. So whenever it begins to blow unusually strong they calmly and piously light their blessed candles and pray with confidence in the protection of God and His angels.
1-13
---
Schools were built in Dinsmore Township very early, the first one constructed entire- ly of logs in 1836. By 1846 there were nine schools, one in the center of every four sections and a tenth devoted to the instruction of negro children. In one of these schools an amusing incident occurred relative to the blackboard. The History of Shelby County has this to say:
"The blackboard was first introduced in this township in 1846, and consisted simply of a board about five feet long and three feet wide, smooth planed, painted black, to which slats were fastened to answer the place of legs by which the board was supported against the wall. The people considered it a nuisance because while the teacher and pupils were working on it, it drew the attention of the whole school. It was therefore secretly removed from the school by night and hid in the woods. In 1849 another teacher introduced the blackboard and this time it was retained".
To provide religious instruction for their children the catholic people built with private funds a school near their church in 1878. It was a two-story brick construction with a lean-to in the rear and cost $1800. The teacher used the lean-to and part of the upper story for his living quarters. Besides his duty as instructor he usually acted as organist at divine service and was also janitor of the place. This school is still standing and most of the adults of the parish can remember learning in it to read and write "and do their numbers". Only a few years back Rhine was incorporated into the Botkins school district, and now the children are transported by bus to Botkins where they learn "to do their numbers" in up-to-date schools under state supervision. The Rhine building is used now for society meetings and an occasional old-time get-to-gether for pleasant recreation.
If one wishes to make a good meditation on eternal things one has only to walk leisurely through the cemetery across from the church and decipher on tombstones the names of those who witnessed the birthpains of their beloved parish many years ago. Peacefully they lie there waiting for the trumpet-call of their resurrection in Christ. To mention all these names would be impossible and perhaps not wise. For some lie there who worked equally as hard for their parish as those who are mentioned in these pages and we would not wish to hurt them or their descendants by possibly forgetting their names. Naturally we write only of facts and events which research has uncovered.
It is regretted that those whom we lovingly call the old-timers did not collect material from which one could give a more detailed and interesting account of St. Lawrence Parish. We would like to know more of their joys, heartaches and sacrifices. But such is not our satisfaction. Youngsters living at the present time can remember Joseph Dieringer, Uncle George and Aunt Elizabeth Schmerge. Many adults can recall learning the three R's under the rule of teacher, organist and janitor all rolled in one. They can remember the old-fashioned pot-bellied stove which warmed them on winter days. Those who sat near it were too warm; those who sat in the corners of the room were too cold. A few can go back further, but none, of course, can go back to the time when dear old Rhine herself was a toddling infant. It remains for eternity to enroll that panorama before our eyes.
As for the present loving and lovable residents of Rhine we say: God bless you everyone. May your deeds for God stand out in the future as the deeds of your forebears stand out in the past.
So ends the Rhine Story.
The above text was taken from the book entitled Rhine's One Hundred Years 1856-1956.
Present Pastor (1983) is Father Anslem Boeke.
1-14
---
FRYBURG
The story of a child would hardly be complete without a few words about its mother. Well, the mother church of which our "St. John's, Fryburg" is an offspring has long ago disappeared. Out in a lonely field a mile southwest of Fryburg stands a stone cross with just a few gravestones for companions. This is all that remains. The base of the cross has these inscriptions:
"This monument is in memory of the Sts. Peter and Paul Roman Catholic congregation of Pusheta township, Auglaize Co. Ohio. The first Roman Catholics of this congregation settled in this vicinity in 1833, purchased this land for church and graveyard purposes in 1835 and erected a church of logs the same year. This church was destroyed by fire the second of Sept.-1884."
"This monument was erected during the administration of the most Rev. William Henry Elder, Archbishop of Cincinnati, Ohio, on January 27, 1892. Michael Warmuth, Lawrence Diegelman, John Koenig, -trustees Sts. Peter and Paul congregation."
And the third side of the stone base has these words:
"This monument marks the site of the altar in that church. The first priest stationed here was Rev. Martin Bobst, who died Nov. 28, 1848, and is interred here. Requiescat in pace."
A few big boulders stick out of the ground a few feet from the monument -- the foundation stones on which stood the old log church. This is all that is left of all the grand hopes of those early pioneers. But it is an old story in the history of the Catholic Church. So many times a mother church, surrounded by prosperous children, is abandoned and forgotten. The Rupperts had practically donated forty acres for church property, the settlers had worked hard in building the 40 ft. by 30 ft. log church and the humble log cabin for their pastor; but the building lots at Petersburg did not sell. They needed a stream for water supply and also drainage and just a mile north was a good elevation with a fine spring fed creek, a little place called Freyburg.
The real inspiration for the first Catholics in Auglaize Co. came from a very zealous and learned priest named Father William Horstman. Born near Glandorf, Germany, in 1778, he was ordained a priest in 1806. for 16 years he was pastor of the Glandorf parish and later taught at the Osnabrueck Seminary for ten years. Although 53 years of age, Father Horstman decided to found a new colony in America. After eight weeks on the ocean he landed in New York on Sept. 7, 1833. He came to Detroit and then scouted around until he found a big wooded area in Putnam Co. Ohio which he bought from the government with his own money. He induced many of his Westphalian friends to leave Germany and together they cleared the forests and tilled the soil, and in memory of their old home they called their new colony Glandorf.
News came to Glandorf of Catholic settlements of Stallotown (Minster) and Petersburg and, on horseback, he visited both places once a month and helped the farmers build their log churches. The Petersburg church was attended by Catholics from many miles around and four years later, in 1839, a small frame church was built in Wapakoneta at the corner of Pearl and Blackhoof streets. Food was scarce, - there was no wheat, and the settlers lived mostly on corn which they ground between two huge
1-15
---
stones. Nine years of a hard life, toil, worry, and endless travel, sapped the strength of Father Horstman and on Feb. 21, 1843, this beloved priest died at Glandorf in his 65th year. A beautiful monument there marks his grave.
Late in 1843 Father Martin Bobst came to Petersburg and made this his home with Wapakoneta as a mission. He lived only five years longer and when he died in 1848 a group of men at Freyburg had already laid out the village in lots and their plans included a large church in the center of the village. Sam Craft had come to Freyburg in 1828 (the first settler) and George Wise and G. Seiter joined him in 1833. The following year came Simon Dresher and J. B. Roth. Bush and Nippgen came in 1835 and then we find M. Linder and G. Linder, J. Sellenger, A. Schaub, V. Fischer, the Guttmans and Weimans. In 1848, Joseph Flick and G. Seiter planned the village and on July 4, 1849, the first Freyburg "Church Trustees," Michael Schneider, Casper Nippgen, and George Hengstler, bought two lots for the building of a church. One was bought from Edward Craft for $25, the other from Adam Vaubel for $15.
With only thirty scattered families to draw from, and with nothing but poverty and wretched roads, it was a tremendous task for these faithful Catholics to build so large a church. (80 ft. long, 43 ft. wide). While the church was being built, Father Dietrich Winands and Father Herman Muckerheide said mass in the homes of Mr. Bush and Mr. Craft. The brick for the church were made at Freyburg but the stone for the large foundation had to be hauled from Piqua. This was a tremendous task; a day going and a day coming and the road just a mud path through the woods. All donated their labor and the non-Catholics in the community also helped. Christian Ruck, who lived where Rudolph Limbert now lives, hauled stone from Piqua for the church. Finally, on November 23, 1850, the new church was blessed and used for the first time. A large frame house across the street from the church, built by George Hinskey's father, became the parish house. This house was torn down to make room for the new rectory in 1949.
For some years the pastors living at Fryburg cared for Petersburg as a mission. In 1856 the farmers to the south organized a parish at Rhine and for 17 years it was a Fryburg mission. In 1865 Father Joseph Goebbels founded the Botkins church and cared for it as a mission. Completely surrounded by her children, - Wapakoneta, Fryburg, Rhine and Botkins, - the little log church at Petersburg was needed no longer. She had served her purpose. Like the good seed: in giving life to new plants she loses her own. The ground where the mother church died is hallowed ground. It belongs to the Fryburg church. It is our duty to keep it and respect it. And God will bless us for it.
The money to build the new church at Fryburg was mostly borrowed from some of the wealthier members of the parish. Many of them were not anxious to get their money back and for many years the financial accounts of the parish included "Interest on notes". By the year 1877, when Father Daniel built the school for $2,000, the parish had grown to 105 families but most of them were poor and could not help support the church. And so the parish remained in debt until only some years ago when John Gutmann with his usual generosity paid off the last few hundreds. Times have improved, our farmers have prospered, and the old church at Fryburg finances itself with graceful ease.
Fr. Lawrence Tebbe
1-16
---
In creating the original 41-lot plot of Fryburg, Beal Spurrier, organizer of the hamlet in 1837, must have been influenced by Germanic origins - for he spelled it Freyburg.
An evolved spelling also affects the name of the township, Pusheta, wherein Fryburg was a focal trading point from its beginnings.
In the treaty at the Foot of the Rapids of the Maumee it is spelled Pasheto; in Henry Harvey's History of the Shawnee Indians it is written Pesheto. Today's spelling "Pusheta", is of unknown origin but believed to have been Americanized by area users.
Fryburg is on the site of a former Indian village and the township's name originated with a chief of the Shawnee Indian tribe who once occupied central-eastern portions of the township.
Pusheta Creek cuts through an elevated table land called St. John's ridge and flows in a northwesterly course, emptying into the Auglaize River.
Pusheta's people made maple sugar from extensive sugar maple groves that covered these uplands.
Plat additions to Fryburg by Joseph Flick, Philip Seiter and Peter Wagner from the year 1848 onward effected the formation of its unincorporated limits.
William McMurray's History of Auglaize County describes the area of Fryburg of the early 1800's as follows:
"It's surface is somewhat rolling . . . although the general surface is level. The soil is exceedingly fertile, and the whole section comparatively well improved. Schools and churches dot the surface here and there, and bespeak educational and religious facilities for all who seek these advantages. The inhabitants are largely of German stock and are energetic and industrious. Freyburg is the only village and post office, and contains one hotel, one physician, two stores, one blacksmith shop, one shoe shop, one school, and one church."
The first school house in the township was a round log building, located along Quaker Run in 1834. It had a large fireplace, slab seats, and wall-hung writing desks. Father Daniel's new parish school replaced the old log school in 1877. It cost $2,000.
Early settlers, such as the Lenox family, occupied land in the township about the site of Fryburg before the village was laid out.
John Lenox, born in 1809, grew to manhood, accumulated some money and bought 200 acres in 1833 at the public land sale in Wapakoneta. He moved into a small indian cabin on the section, raising a family of ten there over the years until his death in 1891.
Sam Craft, who came to Fryburg in 1828, is listed as its first settler in Father Lawrence Tebbe's "100 Years" History of St. John's Parish. George Wise and G. Seiter joined him in 1833.
Public land sales in Wapakoneta in 1833 stepped up the flow of settlers into the Fryburg area. Many pioneer names stretch for three and four generations through its histories
1-17
---
Names like Gutmann, Schneider, Pfaltz, Sibert, Schaub, Rable, Schmidt, Stolle, Nuss, Wooddell, Steineke, Gerstner, Reineke, Limbert, Schnippel, Inglehaupt, Werst, and Schemmel
Conrad Schemmel, born in Bavaria, Germany in 1792, sold his large inherited estates there in his fortieth year and emigrated to America.
Before leaving Bavaria he contracted to pay the transportation of fifty emigrants, for which each one was to pay the cost of his transportation in labor on such lands as he contemplated buying in the new county.
The emigrants left Baltimore for Ohio, arriving near Wapakoneta in July of 1833. Within the six weeks following, Mr. Schemmel entered 616 acres of land in sections 20 and 21, Pusheta township. A log cabin was erected for his family and temporary cabins for the emigrants who accompanied him. After much land clearance a more comfortable residential construction was begun for the Schemmel household.
Conrad Schemmel died in 1870, at the age of 70, leaving a large estate to his grandchildren, Charles and Edwin.
George Schaub of R.R. 1, Wapakoneta, worked on the Schemmel farm for 55 years. His grandson, Jerome, and his wife Linda, presently reside in the original Schemmel brick home on Ruppert Road, having remodeled the sound brick structure inside with paneling and lowered ceilings.
Seventy-nine-year-old grandfather George Schaub doesn't recall the loss of anyone from Fryburg during World War I, but he remembers registering on his 21st birthday, Nov. 9, 1918, and the Armistice came two days later.
"Whistles blew, they rang the church bell, they just went wild and a bunch of us didn't have to go to war." he said.
Fryburg's World War II monument in the Catholic cemetery just east of the village, bears a memorial to those who served and especially notes Joseph Scheblo who was killed.
The year 1975 marked the 125th anniversary year of Fryburg's St. John's church. It is the oldest church in the Cincinnati Diocese still in use this bicentennial year of 1976.
St. John's first trustees, Michael Schneider, Casper Nippgen, and George Hengstler, bought two lots for the building of the church on July 4, 1849.
The brick of the church was made in Fryburg and the foundation stone was hauled from Piqua over a mud road, through the woods.
Father Dietrich Winands was the first priest to say Mass in the new church. Twentyfour priests followed Father Winands, including today's pastor, the Rev. John D. Sauter.
The last decade of the 1800's in Fryburg's story is a saga of "good times" to be had in the only wet community, seven days a week, in an entire dry (no alcoholic sales) county. Five saloons and two dance floors attracted patrons for miles around, much to the chagrin of many local citizens.
Both railways, electric and steam powered, bypassed the hamlet to the west in the
1-18
---
early 1900's. This brought on an exodus of some 30 families and a drop in village land values.
Automobiles helped revive Fryburg. Some excellent gravel pikes throughout Auglaize brought a new flood of residents eager to build new county homes. School children were bused to Wapakoneta and Botkins in the 1920's. The old 1877 school house became a parish hall, used for dances and parties by the entire community.
Today Fryburg manages to hold its own, refusing to die as so many small communities have over the years.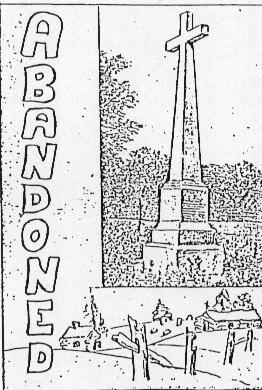 A few big boulders stick out of the ground a few feet from the monu-
ment - the foundation stones on which stood the old log church.
This is all that is left of all the grand hopes of those early pioneers
1-19
---
BOTKINS
The village of Botkins came into being as "Botkinsville" officially in July, 1858, and was at one time known as "Stringtown".
Historians of the past have never been able to accurately determine how it came by the latter handle, but it's a fair guess that the settlement was one of a string along the most heavily traveled road or byway.
Richard Botkin, for whom the village was named, came to the area at the age of 29 from Hamilton County. The year was 1832, and Botkin brought with him his wife and family. Apparently he had heard of the opportunities for homesteading "up north" where the soil was rich, and provided incentive for a man bent toward farming and making his living off the land.
Whatever his purpose, Botkin recognized opportunity when it presented itself, for he set up a farm operation and dealt in stock for the remainder of his life. He died in the spring of 1858, and a little more than a year later, Botkinsville was surveyed and platted for Russel Botkin, Richard's son. The date, according to courthouse records, was July 31, 1858.
The town came into being and was so named out of deference to the elder Botkin. In his will, he had expressed a desire to have a village laid out on his land, and it was to be named "Botkinsville".
In those days, religion and the church played a prominent role in the lives of most people, and oftimes was the most important aspect of family and community life. In fact the social life of most people in rural areas revolved around the church first, and then in activities connected with farming, according to historians. Neighbors helped one another in turn in agricultural pursuits, particularly during harvest.
The same comradery prevailed in times of tribulation in most cases.
In keeping with Richard Botkin's upbringing, the Methodist Episcopal Society soon flourished in the area. The society was organized the year after Botkin's arrival, and meetings were held in his home for a time (reportedly a log house, later framed, at 211 S. Main St., where now lives Steven D. Maurer, mayor of Botkins and candidate this year for the state senator).
Then members started holding worship services and prayer meetings in a log cabin house which later became the site of the John Losher residence.
According to Sutton's history of Shelby County, the Methodists met in the log house until about 1841 when they built a 40 by 30-foot hewed log church near where P. Sheets Jr.'s warehouse now stands, on ground donated by Richard Botkin. The building was used by the society for church purposes for a number of years, or until 1860, when they erected a frame church building in Botkins, 45 by 38-feet..." (on North Main Street where the present-day Ward School play area is located.
In the meantime, Sutton said, several families of German Roman Catholics settled in the area and held services at private residences or wherever a meeting place was available. They were occasionally served by missionaries or priests from other communities.
1-20
---
The Roman Catholic Church of the Immaculate Conception formally organized in 1865 with 28 families, and two years later were occupying their newly built church (85 by 45-feet) which cost $8,000.
The Methodists used their frame building until 1881 when, according to Sutton, they "erected their present brick edifice...51 by 31-feet, with an 18-foot ceiling at a cost of $2,040." The frame building was sold to the Immaculate Conception Parish fur use as a school.
The Methodist brick church was located at the present-day 109 S. Mill St. address at the corner of W. South Street where the Sylvia Zimpfer Kennedy home now stands.
The church structure remained at the Mill Street location, however, for many years after the present Methodist Church was built in 1926.
(The present St. Paul Lutheran Church at Botkins was not to come into being until 1896 when a budding membership purchased a small frame church building at the corner of Main and South Streets from officers of the Zion German Evangelical Church. Historians wrote very little about the German Zionists, however. The home of Ralph Grieves, 201 S. Main St., is located on the former Lutheran and Zion Church site.)
Besides the Richard Botkin family, others to locate in the township up to and including 1832 were the Blakeleys, Dills, Allens, Turners and Greens.
In 1833, the Park, Hartpence, Lemon, Toland, Hagelberger, Goode, Wiford and Staley families came to the area. They were followed in 1834, according records, by the Bridewesser, Taylor, Mede, Bruner, Oxberger, Liams, and Elliot families.
Early settlers of the 1835-38 period were Samuel and Alexander Elliott, Thomas Liams, William H. Abbott, W.D. Johnson, Peter Gerber, John Faler, Elias Gibson, Daniel Toland, John Fahr, Diedrich Schulte and John Knasel (according to an account written for the Ohio Sesquicentennial edition of the Daily News in 1953).
Some small township schools sprang up throughout the county as time went by, but according to available historical records, it would appear the Immaculate Conception Church had the first real school at Botkins in 1881. (This was the same year that a petition for incorporation of the village was filed with Shelby County Commissioners.)
Before the turn of the century, however, a public school was erected at the site of the present-day swimming pool (corner of West State and North Sycamore Streets) across from the United Methodist Church.
Some opposition was noted after the March 7, 1881 filing of the incorporation petition. D.E. Morgan and Jacob Zaenglein were named agents for the "said corporation" and the petition was signed by J.B. Hemmert, A. Roth, J.C. Struckman and "45 others".
A remonstrance signed by "A. Gutman and 27 others" protested against the petition saying that incorporation of the village was "not demanded by the people; that it would involve an unnecessary expense and a burden upon the people, and upon the property-owners for all time to come."
A protest filed with the commissioners and signed by Elizabeth Monger "and three others", pleaded that the signees "own property that will be taxed; that they are poor and cannot afford to pay any additional tax that will necessarily follow;
1-21
---
that the same (incorporation) is not demanded by the best interests of the people".
Pursuant to law, the commissioners set a date for a hearing (May 10, 1881) As a result, the village became a corporation Aug. 2, 1881, and the name of Botkinsville was shortened to Botkins. The commissioner's order was certified by the county auditor and recorded Jan. 3, 1882.
Sutton said a special election was held at which the following officers were elected to serve Botkins: P.W. Speaker, mayor; H.H. Varner, clerk; F.M. Hemmert, treasurer; J.B. Staller, marshal, and [sic]
At the regular April, 1882 election, J.W. Zaenglein and J.B. Greve succeeded Tate and McMahon on the council, and J.W. Botkin succeeded Varner as a clerk. All other officers were either reelected or held over, according to Sutton's 1883 report.
Sutton also listed "business interests" as follows: "Three general stores, by A. Gutmann, Joseph H. Miller, and Philip Sheets. Warehouse and mill, A. Gutmann. Two warehouses, P. Sheets and Miller & Norris. Two blacksmith shops, John W. Zaenglein, and Henry Brockman. Hardware, Schaf & Kuhn. Bakery Frank Monger, Hotels, Shelby House and Burnett House, Fred. Schubert, proprietor. Livery stable, Benj. Kuest. Meat market, Stole & Hemmert. Tin shop, John Duckro. Physicians, P.R. Clinehens, and G.M. Tate. Shoe store, Joseph Miller. Saw Mills, Gray & Ailes, and A. Roth. Agricultural implements, Hunt & Greve. Wagon makers John B----- andJohn Schars."
According to Sutton and information derived from the 1953 Sesquicentennial edition of the Daily News, Botkins' first industry was Silas D. Allen's sawmill established in 1849. It was later taken over by "Duff and Fogt".
Andrew Gutman conducted a general store in 1860 and in 1865, built a steam flouring mill. Miller Brother's general store was in operation in 1878, and the Hunt and Greve implement store came into being about the same time.
Philip Sheets Sr. conducted a hotel and cafe in 1865, it was reported, and Philip Sheets Jr. clerked in the drygoods store of Henry Smith in 1870. In 1879 he went into the drygoods business for himself but later became engaged in the grain elevator business.
John Stolle was engaged in the meat market business in 1888 and W.C. Zaenglein established his drygoods and department store in 1890. Fred Schubert built his hotel in 1888, and M.A. Marx and H.S. Allen had a cooperage business in 1890.
In the same year, Dr. M.F. Hussey was teaching school and Charles Mowry and Philip Sheets Jr. established a wheel and spoke works in the village.
The "Botkins Herald" was founded in 1902 by Adam Blakely and the newspaper business was carried on by family members for many years.
The Botkins Herald was described by A.B.C. Hitchcock in his 1913 History and Biography of Shelby County, as a "luminary which sheds light in the community, suggests improvements, records the happenings and molds public opinion".
A few treasured copies of the old newspaper are in the possession of Botkins citizens yet today. It is hoped that they can be reproduced for display in the old Shelby House.
1-21A
---
BURKETTSVILLE

The village of Burkettsville, Ohio, was platted by Bernard Romer, Jr. Edward Frummel, William Sutherland and Jackson Golder on November 25, 1876. Early settlers had formed a colony here in 1871 and named it after a Mr. Burkett, one of the residents.
When the railroad (Cincinnati, Van Wert and Michigan Railroad) was built through the village in 1884, and grants given for easement right, the station was posted as "Gilberts" in honor of a Mr. Gilbert, who donated ground for the site of the new depot.
Later the railroad became the Cincinnati Northern.
Early records (1883) of Mercer County list among the pioneers of this area the names: John C. Gilbert, A.E. Gilbert, Ann Gilbert, J.M. Schoenberger, F.Z. Mory, Mary F. Pepple, Louis Krockeberg, W.L. Bingman, Wm. Neal, C.J. Titus, Joseph Anman, J.W. Birt, and August Knostman.
Darke County records, which go back further - to 1854, list among the property owners the names of Theodore Hemmelgarn, Henry Rutschilling, M.L.M. Bingham, W.H. McFarland, Henry Middendorf, Andrew Kunkler, Bernard Stukenborg and Paul Heinseth.
Burkettsville's first physician was a Doctor Inman. He was succeeded by Dr. Brown. Later on Doctor Sullivan and Doctor Martin E. Harrell served the health needs of the families. Veterinarian Neal McNeal practised his science and art in the area around the turn of the century.
The sole Protestant church in the village, the Church of the Disciples, was located on North Washington Street. Later, around 1920, it was moved to a site along the old roadway of State Route 118 and became Hierholzer Garage.
From the records it appears that the Public School was started in 1875.

St. Bernard Parish
The story of St. Bernard Parish, centering around its im- posing church edifice which dominates the village scene at Burkettsville, began in 1874. A small group of German pioneer settlers in the area - six families in all - made the beginnings. These were the families of Theodore Hemmelgarn, Sr., John Borgerding,Sebastian Fink, Joseph Nordenbrock, Frank Beck- man and Henry Borgerding.
The Catholic churches nearest them at the time were St. Wendelin and St. Henry. And at that time a trip of only a few miles over dirt roads, and under varying weather conditions, week after week, called for a persistence of spirit little short of heroic. They were quite accustomed to hardships, and not unwilling to sacrifice. But they longed to have in their midst a church of their own.
With the permission of the Most Reverend John Baptist Purcell, Archbishop of Cincinnati, they took up the task of build- ing their church. Bernard Romer, of St. Henry, aided their cause by donating a two-acre plot as a site for the new church. Construction was begun in 1874, under the experienced supervision of Father John Van den Broeck, C.PP.S., then pastor of St. Henry, and the builder of many churches, thirteen in all.

Completed in 1875, the frame church, thirty-five feet wide and sixty feet long, was dedicated in October of that year by Father Bernard Austerman, the Provincial of the Society of the Precious Blood. (Cost of the new edifice: $1,700.00)
Soon after this, the number of St. Bernard's families grew, as other settlers in the area joined the infant parish. Among the earliest additions were the families of Lawrence Wimmers, George Oliger, Herman Brinkman, Henry Buehler and John Strithold. By 1882 the list of families had grown to 25, with 125 members.
The first bapism in the new church was that of J.H. Ber- nard Strithold on December 8, 1876.
The first marriage was solemnized on May 2, 1876; the exchange of vows was between Theodore Hemmelgarn, Jr., and Mary Nordenbrock.
The first funeral was that of George Oliger, age 66, on March 14, 1876.
Father Aloys Malin, C.PP.S., took charge of the parish in the latter part of 1876 and bgan to offer regular services in the new church.

In June of 1887 Father Malin was Succeeded by Father John Frericks, C.PP.S., who served the parish until 1879. He also served as pastor from 1890 to 1891.
Father Paul Reuter, C.PP. S., took care of the parish's needs from 1879 to 1882. During his pastorate St. Bernard's first parochial school was built.


ST. BERNARD CHURCH

PARISH FOUNDED A. D. 1874
NEW CHURCH DEDICATED AUGUST 3rd. A. D. 1924

CHURCH MEASUREMENTS
Length: 156' Width: 93'
Inner Height (floor to ceiling): 45'
Height of Towers: 115'

ST. BERNARD CEMETERY

Through the parish's first two decades of years, a small section of the lot behind the frame church was set aside for use as a cemetery. Then in 1894, as more space was needed, a two-acre tract of land in Darke County was purchased from Theodore Hemmelgarn, Sr., for a new burial ground. Anthony Norderbroch graciously offered easement rights for the use of a 20 wide strip of land as a driveway from the street to the new cemetery.
Around 1902 the bodies that had been buried behind the church were exhumed and transferred to the new cemetery. Several of the bodies, it was reported, appeard to be remark- ably well preserved, but then quickly collapsed when exposed to the air.
A small (25' by 32') unblessed section in the northeast cor- ner is known as "Potter's Field." Several infants are interred in this area.
The monument standing close to the center of the cemetery was erected in 1912 at a cost of $400.00
Later donations of land - by Anthony Nordenbrock, Al- bert Werling and Leo Siefring - enlarged the cemetery to its present dimensions: 369' 6" wide and 417' 10" long from Main Street to the south end.
---
MERCER COUNTY, OHIO - MARION TOWNSHIP
The earliest official record of Marion township is the result of the first election and was signed by James L. Sines, township clerk, June 25, 1833.
This election followed a petition filed with the Commissioners by residents of the Chickasaw settlement, asking that a township be organized.
The first officials were James Sines, Clerk; Samuel Gray, Charles Botkins and John Miller, Trustees; John Sprague, Treasurer; Mathew Kerns and Andrew Gillaspe, Overseers of the Poor; John Davis, William Botkins and Hugh Miller, Fence viewers.
Records indicate that the first Roman Catholic Church was St. Alvis, established at Carthagena in 1836, on land purchased from a colony of freed negro slaves who had settled there.
St. Johns Church was established in 1837 and amog it's early members were the Reicherts, Kramers, Moellers, Goeckes, Elkings, Hinders and Gasts.
The settlers were among the second influx of pioneers in Marion township. The first arrivals were practically wiped out by the disastrous Asiatic Cholera epidemic of 1832 which almost depopulated the entire area as well as adjoining parts of Darke and what is now Auglaize counties.
St. Johns was surveyed Sept. 22, 1838 and the west addition, now Maria Stein was laid out by Archbishop Purcell in 1851. Carthagena was platted in 1840 by Charles Moore, Rose Garden, now St. Rosa was founded in 1854, while Marysville, (now Casella) was platted in 1860.
In the year 1839 the parishes of St. Rose and St. Victoria (now St. Joseph) were founded. Within ten years, however the former parish was so extensive that it was only with difficulty that the needs of all the faithful could be satisfied. Consequently, two parishes taken from St. Rose, namely Casselda in 1847 and St. Sebastian in 1851. It is with the former that we are now concerned.
Giving to the lack of complete records, we must imagine that it was only a mission church. During these ten years many priests attended to the needs of the parish - usually traveling missionaries, some remained for three or four months, residing at the Marion Stein Convent, since Casella had no parsonage at this time.
Some of the earliest priests were Rev. Andrew Herbstritt, Rev. Henry Drees and Rev. Mathias Kruesch. Records of the activities of these "missionary" priests are also to be found very frequently in both church and county records of Auglaize and Shelby counties.
Cassella church records indicate the first baptism to be that of Elisabeth Schmidt, daughter of Paul Schmidt and Catherine
Ranly. The first marriage record was Jerobaun Blattauer and Anna Marie Troeseler. The mission church of Cassella soon became too small to serve the increasing population, so a new church was built in 1858. A rather interesting controversy is recorded in regard to this matter. The people of Cranberry Prairie had separated themselves from St. Henry and desired to form one parish with Cassella, with a church midway between Cassella and Cranberry Prairie. The parishioners living east of Cassella rejected to the greatly increased distance. The matter was settled ba y vote resulting in the organization of St. Francis parish at Cranberry Prairie.
MERCER COUNTY, OHIO -- GRANVILLE TOWNSHIP
The County Commissioners on June 5, 1837 granted a petition asking that the east portion of Recovery Township be set apart as a separate township. It was named Granville and the first election was held June 26 with the following officers selected: James Grant, Justice of the Peace; John Wright, Clerk; and William Franklin, Constable.
The platting of St. Henry was recorded July 31, 1839 and Burkettsville Nov. 25, 1876.
Among the townships earliest citizens was William Simison, a native born son, 1827. Henry Bruns was another 1827 arrival. Albers were, Lot and Jacob Franklin 1831, Casper Stelzer and William Stretcher 1833, J. B. Drahman 1836, John H. Romer 1837, and Andrew Post who was born in Mercer Co. in 1837, Joseph Robbins and Henry Beckman 1839.
There are four Catholic Churches in Granville, the oldest of which is St. Henry's at St. Henry, which congregation dates from 1839 and the first church was built in 1840. Father Bartel was the pastor.
St. Wendelin's church in Wendelin was organized in 1856, St. Francis church at Cranberry Prairie was founded in 1858 while St. Bernards in Burkettsville was established in 1875.


CRANBERRY PRAIRIE, MERCER CO.
LOOKING SOUTH

Granville Township has a surface that is generally low and level, with an extended basin known as Cranberry Prairie, but was originally somewhat of a marsh. Presently it is a very rich, tillable farm land. at one time B. J. Bertke had a general store in Cranberry and Joseph Dover conducted a blacksmith shop.
St. Francis Church is situated near and includes Cranberry Prairie. The church was organized through the efforts of Christopher and Jacob Schunck and Henery Hemmelgarn. The church was built in 1860 of brick 38x65 ft. at a cost of $5000. Membership was about 160. (1882 Suttons History of Van Wert & Mercer Counties).
A new church was erected and dedicated in 1906. Present day membership remain at 60 to 65 families.
St. Francis Cemetery is located just west of the church and rectory.
Early settlers of the area were as follows: Bernard, Dierkes, Hemmelgarn, Huwer, Karch, Knapke, Langenkamp, Link, Reier, Rinderle, Schmitt, Stachler, and Zahn.


***********************************
Senescence begins
And middle age ends
The day your descendants
Outnumber your friends
***********************************
---
The following pages contain brief sketches of the families of Joseph Steinke's sister, Margaret Schnippel, and his brother, George Henry Steinke. Both sketches were compiled by Linda Knerr of Wapakoneta. Linda is a master genealogist of the Rhine and Fryburg areas, and her expertise may well have provided the background for at least half of the material following in this book.
For the Schnippel family, the authors have enough information to fill a couple hundred pages, which is far too lengthy to include here, so Linda compiled a sketch that includes just the first few American-born generations. For the George Steinke family, however, all the information known about them has been included.


1-25
---
| | | |
| --- | --- | --- |
| Steinke Page | Top | To the next chapter |
---
| | | |
| --- | --- | --- |
| Zur deutschsprachigen Genealogie | Home | To the "english" genealogy |
---